Breezy One™ Autonomous Disinfecting Robot
Enhance your facility with cutting-edge disinfecting technology.
Make disinfecting a breeze.
Breezy One is an autonomous, disinfecting, fogging robot. Designed for large facilities, it fits perfectly in schools, airports, arenas, and more. The fogging technology ensures all surfaces are covered, including air vents, fabrics, and other hard-to-reach spots.
Mapping and setup is completed by the Build With Robots team. All you have to do is press the button to set Breezy One on its path, then you can watch it go from room to room, disinfecting while avoiding any people and obstacles it may come across.
When paired with Breezy BioCare RTU, Breezy One is scientifically proven to eliminate over 99.9% of pathogens.
Tank Size
8
Gallons
Covers 150,000 Square Feet
1
Hour
Pathogen Elimination
>99.9
Percent
Battery Lasts Up To
8
Hours
Fully autonomous with the capability of saving multiple routes

Utilizes lidar and 3D cameras to avoid obstacles and people

Remote dashboard reporting of where/when fogging took place

Easy-to-use touchscreen interface
Fogging technology designed to use minimal disinfectant so none is wasted

Two foggers allow for full coverage in less time

20 micron particles, small enough to penetrate fabrics and remove germs and allergens from the air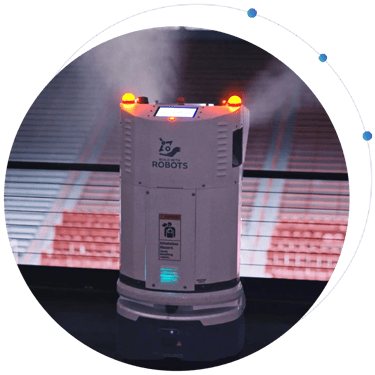 Over 99.9% pathogen reduction.

GBAC STAR Registered and approved to enhance facility sanitization.

Green Clean Certified - disinfectant fog is safe and nontoxic.

EPA Registered, on List N & List Q of disinfectants.