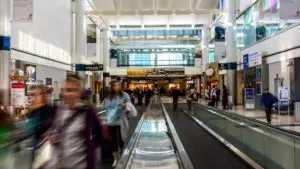 Breezy One is the first autonomous disinfecting robot to be at two 4-star airports.
ALBUQUERQUE, NM., July 12th, 2021 l Source: Build With Robots
So far this month, Breezy OneTM has been deployed at 3 different airports. The Build With Robots team has been busy in the month of July, first starting at George Bush Intercontinental and then William P. Hobby Airport. Each airport will now have autonomous robots disinfecting their facilities with 99.9999% of pathogens being eliminated. This marks Breezy One as the first robot to be working in two *4-star airports.
As far back as May 2020 Houston was attempting to build upon their 4-star rating, aiming to be one of the few 5-star airports in the world. Houston Airports Director Mario Diaz was quoted then saying, "Despite this crisis, we will use this time to continue to make improvements that will help us reach our vision of establishing Houston Airports as a five-star global air service gateway where the magic of flight is celebrated." This comes after another huge weekend of travel, as TSA saw over 2.1 million passengers.
Click here for the full story in Airport Improvement.