Essential Practices to Prevent Healthcare-Associated Infections: MRSA
Staphylococcus aureus, a prevalent pathogen in healthcare-associated infections (HAI), poses a significant challenge due to its antibiotic-resistant strain, Methicillin-resistant Staphylococcus aureus (MRSA). The impact of MRSA cannot be understated, with a substantial portion of ICU infections worldwide being attributed to it. Despite notable efforts to combat its spread, MRSA remains a common issue in healthcare settings. In response to the persistent threat, several notable infection control professional organizations have joined forces to update the guidance document for acute-care hospitals to prevent MRSA transmission. Emphasizing a multi-pronged approach, the 2022 MRSA prevention update highlights essential practices and cutting-edge technologies to enhance disinfection procedures and safeguard patients and staff alike.
Understanding How MRSA Impacts In-Hospital Infection Rates
Staphylococcus aureus is one of the most common pathogens seen in healthcare-associated infections (HAI). Methicillin-resistant Staphylococcus aureus (MRSA) is a type of bacteria that is resistant to several antibiotics, making it much harder to treat. It is estimated that 15% of ICU infections are caused by S. aureus worldwide, and 31% of those are due to MRSA. In North America, S. aureus causes about 23% of ICU infections, and 44% of those are due to MRSA. Staphylococcus aureus is one of the most common pathogens causing HAIs in the US. In 2011, 80,461 MRSA Infections were reported, with an in-hospital mortality rate of 14%. With over 11,000 deaths in 2011 and 10,000 deaths in 2017 in the US alone, MRSA poses a significant challenge for healthcare institutions.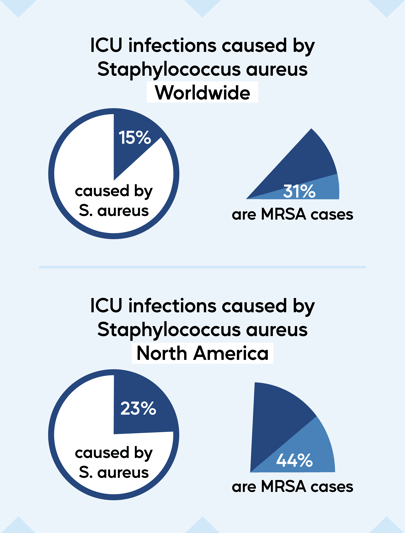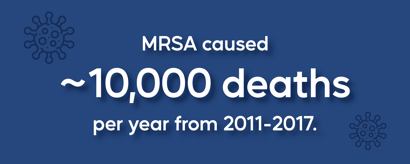 In 2022, the Society for Healthcare Epidemiology of America (SHEA), the Infectious Diseases Society of America (IDSA), and the Association for Professionals in Infection Control and Epidemiology (APIC) came together to update the guidance document of recommendations for acute-care hospitals to prevent MRSA transmission. These guidelines have not been updated since 2014, nearly a decade ago. The rate of hospital-onset MRSA bloodstream infections decreased by 17% every year from 2012 to 2017, but increased by 15% from 2019 to 2020 with the onset of the COVID-19 pandemic. When comparing the first quarters of 2019 and 2020, HAI rates actually decreased by 7.2%. However, HAI rates increased for the rest of the year as the pandemic progressed. This emphasizes the importance of implementing and adhering to preventive measures, so SHEA, IDSA, and APIC recommend a multi-pronged approach within their update on the guidance to prevent MRSA transmission.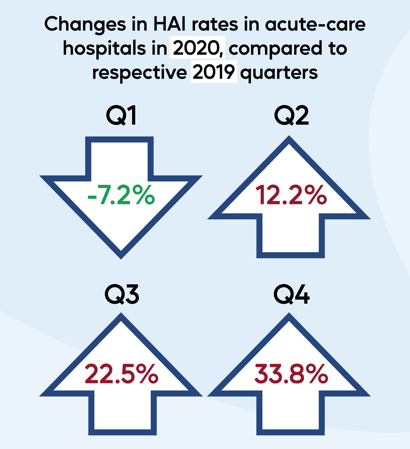 Essential Practices for Preventing MRSA, Recommended for All Acute-Care Hospitals
The 2022 MRSA prevention update listed eleven essential practices, with the following three having a higher quality of evidence than the other eight.
Promote compliance with CDC or WHO hand hygiene recommendations. MRSA is commonly spread to patients by contaminated hands of healthcare providers. Proper hand hygiene prevents the transmission of many different pathogens.

Use contact precautions for MRSA-colonized and MRSA-infected patients. Surfaces, objects, and healthcare providers can easily become contaminated in rooms with MRSA patients. Minimizing contact with patients with a history of MRSA is also recommended, since they can carry MRSA for prolonged periods of time.

Ensure cleaning and disinfection of equipment and the environment. Overbed tables, bed rails, furniture, sinks, floors, stethoscopes, blood pressure cuffs, and everything else in a patient room needs to be disinfected thoroughly. Cleaning AND disinfecting, as separate practices, are essential for reducing the transmission of pathogens. Additionally, monitoring of cleaning and disinfection procedures has shown to improve thoroughness of environmental services (EVS) personnel.
Using T
echnology
to Make Disinfecting Quicker and Easier
Adding new processes to reduce the transmission of MRSA and other HAIs can consume valuable time and resources. Addressing essential practice #3 above, new high-tech tools may provide hospitals with an option to fight HAIs efficiently. UV disinfection, electrostatic sprayers, and disinfectant fogging are three methods of enhanced disinfection that have grown in popularity over the past few years. (Learn more about each method: UV Disinfection vs. Electrostatic Sprayers vs. Disinfectant Fogging.)
Disinfectant fogging with systems like Breezy Blue is arguably the most efficient method to add enhanced protection against disease spread. Breezy Blue's Aerosolized Hydrogen Peroxide (AHP) fogging is a safe, sustainable, and effective method to add enhanced disinfection without adding excessive labor and cost. Breezy Blue's foggers disperse disinfectant broadly in a short period of time, covering all surfaces and objects within the patient environment, including those that might have been missed by conventional spray-and-wipe methods. Breezy Blue's AHP disinfectant, Breezy BioCare RTU, has shown to eliminate >99.9999% (>6.31 log kill) of MRSA pathogens when tested in accordance with the AOAC Germicidal Spray Test by a Good Laboratory Practices (GLP) facility.
And automated systems like Breezy Blue provide other advantages. Breezy Blue is extremely simple to use and operates with the push of a button or automatically upon a schedule. And Breezy Blue is predictable, repeatable, and provides a traceable electronic log of disinfection history. Monitoring of EVS practices, such as with this electronic log, has been associated with improvements in environmental cleaning and disinfection in healthcare settings.
Tools like Breezy Blue are adding an extra layer of protection for patients and staff. The risk of spreading HAIs like MRSA is always high, so disinfecting and cleaning are important tasks to perform regularly and improve upon over time.
Read all the recommendations here: SHEA/IDSA/APIC Strategies to prevent MRSA
More info:
Antibiotic Resistance Threats in the US 2019 (CDC)
Changes in 2020 national healthcare-associated infections (CDC)