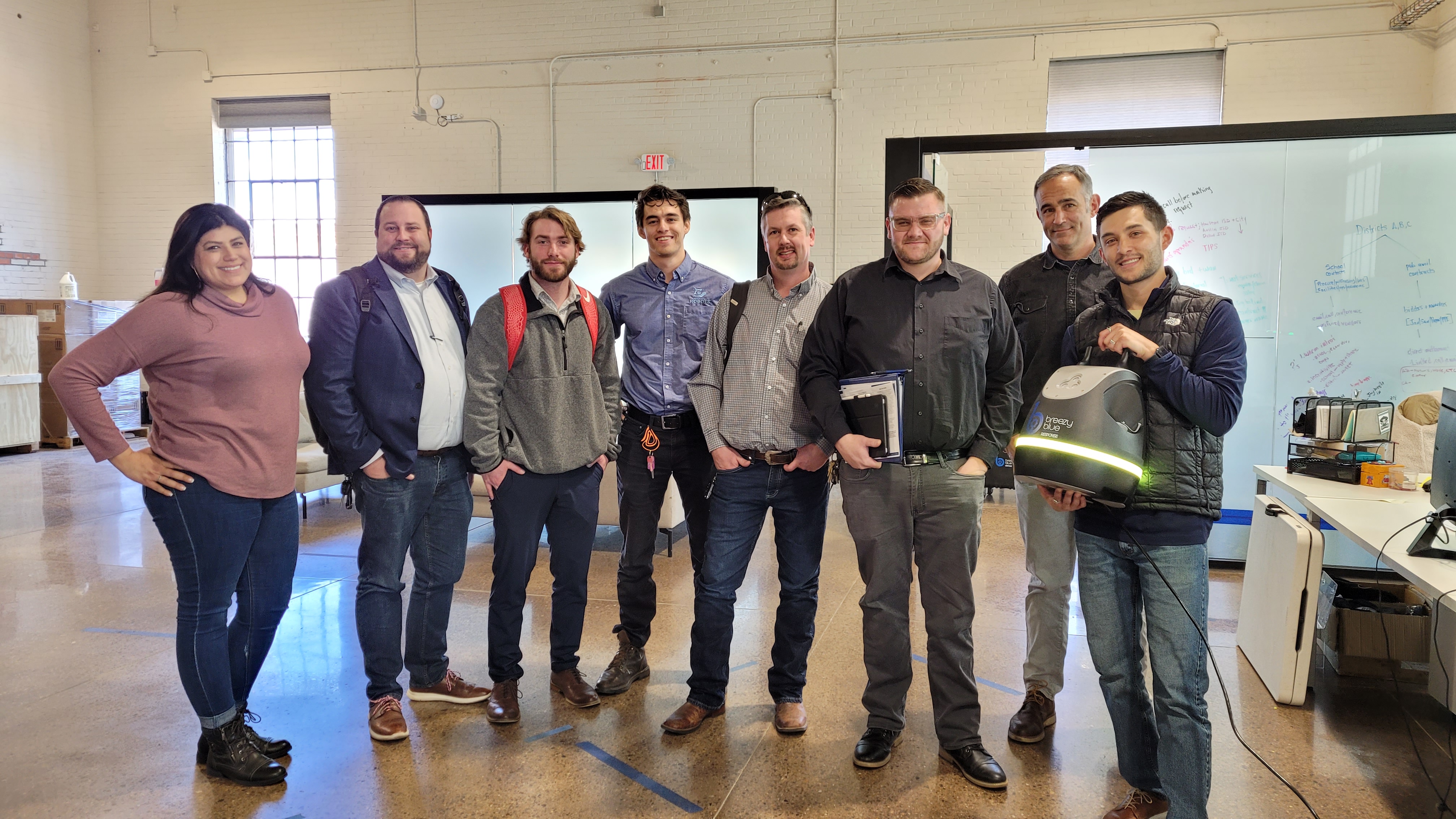 LD Supply & Build With Robots Bring Automated Tech to Jan-San Industry
ALBUQUERQUE, NM - Build With Robots, a leading robotics company that specializes in automated disinfection, is proud to announce their new partnership with LD Supply, a premier laundry, janitorial, and dry cleaning wholesale distribution company. The partnership aims to bring Build With Robots' newest minibot, Breezy Blue, to schools, state and local government facilities, and many other shared spaces in the New Mexico, Eastern Arizona, Southern Colorado, and West Texas regions.
Breezy Blue, an automated portable fogger, can disinfect a room in 30 seconds with 99.99% germ elimination. The high-tech minibot saves time for custodians and others who disinfect responsively or preventatively to ensure a healthy environment. LD Supply will help expand Build With Robots' sales efforts of Breezy Blue into various market segments, including K-12, state and local government agencies, and hospitality.
The collaboration between Build With Robots and LD Supply will provide a new level of efficiency and cleanliness to facilities of all types. By combining Build With Robots' cutting-edge robotics technology with LD Supply's personalized and comprehensive sanitation care, this partnership will revolutionize the way facilities approach disinfection and indoor air quality.
"We're excited to partner with LD Supply to provide Breezy Blue to more schools and businesses across the Southwest," said Chris Ziomek, CEO of Build With Robots. "This partnership will allow us to expand our reach and provide top-of-the-line disinfecting solutions to more people than ever before."
Build With Robots is committed to providing businesses with the latest in robotic technology to improve productivity, increase efficiency, and maintain a clean and safe working environment. Breezy Blue is a sustainable and cost-effective solution that saves time while disinfecting with high efficacy.
"Build With Robots is combining cutting-edge technology with a unique chemistry to prevent and respond to illness with outstanding results," says Justin Ellis, Sales Manager at LD Supply. "We know there is a labor shortage across the industries we work with, and a variety of facilities will benefit not just from illness prevention and the deodorizing effects of Breezy Blue, but the automation and time savings as well."
LD Supply is committed to pioneering new products and solutions that blend value for their customers with sustainability for the planet, providing high-quality products that they believe in. This partnership will allow LD Supply to offer their customers a new level of cleaning technology that will save staff time and equip them with easy to use disinfecting tools, brining streamlined workflows and comprehensive disinfection programs to Jan-San customers.
Build With Robots is currently seeking other distribution partnerships to expand their reach across the U.S. and bring their autonomous disinfecting robots to more businesses. For more information about Build With Robots and their partnership opportunities, visit their website at https://buildwithrobots.com/become-bwr-partner
ABOUT BUILD WITH ROBOTS
Build With Robots automates unfulfilling and undesirable work by leveraging automation to serve new industries. We do this because we believe in the dignity and value of work and the people who do that work. Build With Robots builds disinfecting robotics that allow workers to do their jobs safely and more effectively. Build With Robots is more than robots; it's a community. Our disinfecting robots make workers' lives easier and people safer.
ABOUT LD SUPPLY
LD Supply Company is a laundry, janitorial, and dry-cleaning wholesale distribution company with a comprehensive line of national, name-brand products. We also proudly manufacture our own janitorial and laundry products. At LD Supply Company, we are dedicated to creating long-term relationships with our customers. Our experience, integrity, and exceptional customer service standards make LD Supply the best choice to meet your business needs. LD Supply is also a member of Pro-Link, a national full-service janitorial supply, marketing, and buying organization.
https://www.ld-supply.com/Web/home
CONTACT INFO:
For Breezy Blue inquiries and distribution partnership inquiries, contact Christian Slough, Business Development, christian.slough@buildwithrobots.com